As part of the 3Ts redevelopment project at the Royal Sussex County Hospital in Brighton, the interior of the 165-year-old chapel will start a new life as it's relocated to a purpose-built space in the scheme's first new building.

The beautiful, grade II listed chapel – the oldest operating chapel in a healthcare facility in the UK - is being moved from the Barry Building, which dates back to 1828 and is the oldest acute ward building in the NHS estate still seeing patients. As part of Stage 2 of the wider 3Ts scheme, demolition of the Barry Building is due to commence in early 2023 following handover of the Stage 1 building.
The chapel closed its doors in its current location in the Barry Building on the evening of Sunday 9th May 2021. This marked the start of a detailed process to carefully dismantle its interior -including stonework, stained glass windows, memorial plaques, marble flooring and ornate plasterwork .
The relocation project is split into two stages:

Deconstruction
DBR's specialist masons and conservators have completed the careful deconstruction of the Brighton Hospital chapel's masonry and heritage assets. The dismantling exercise took six months to complete and saw the intricate removal, cataloguing and storage of the chapel's stained-glass windows, teak and marble flooring, chandelier, memorial plaques and ornate plasterwork.
This highly intrusive operation has been carried out in a live hospital environment without any disruption to hospital services .
Relocation
The construction of the new building within the modern Stage 1 hospital complex has already begun and the relocation of the chapel will begin once the host space is complete.
Challenges & Solutions
1. Accessibility
a. The complexity of this project was increased due to the location of the chapel, which was situated in the currently occupied Barry Building. During the deconstruction process, contractors DBR and Laing O'Rourke were required to navigate the difficulties presented by the Covid-19 pandemic and by a working hospital. To overcome this, an external access and egress route was created through the rear of the building and clear lines of communication with the hospital were set up.
2. Project Sensitivity
a. The project requires careful consideration because of the historical importance of the building and its active members. Since it is a Grade II listed building, there needs to be extra consideration of the public, the chaplaincy and the contents of the chapel. To accommodate this, we worked closely with DBR, a building conservation specialist, to provide a timely and detailed deconstruction of the old building. Each item removed was catalogued, photographed and wrapped before being taken to a secure warehouse. This was done to make sure no damage would occur to the contents. The same service will be required for the re-installation.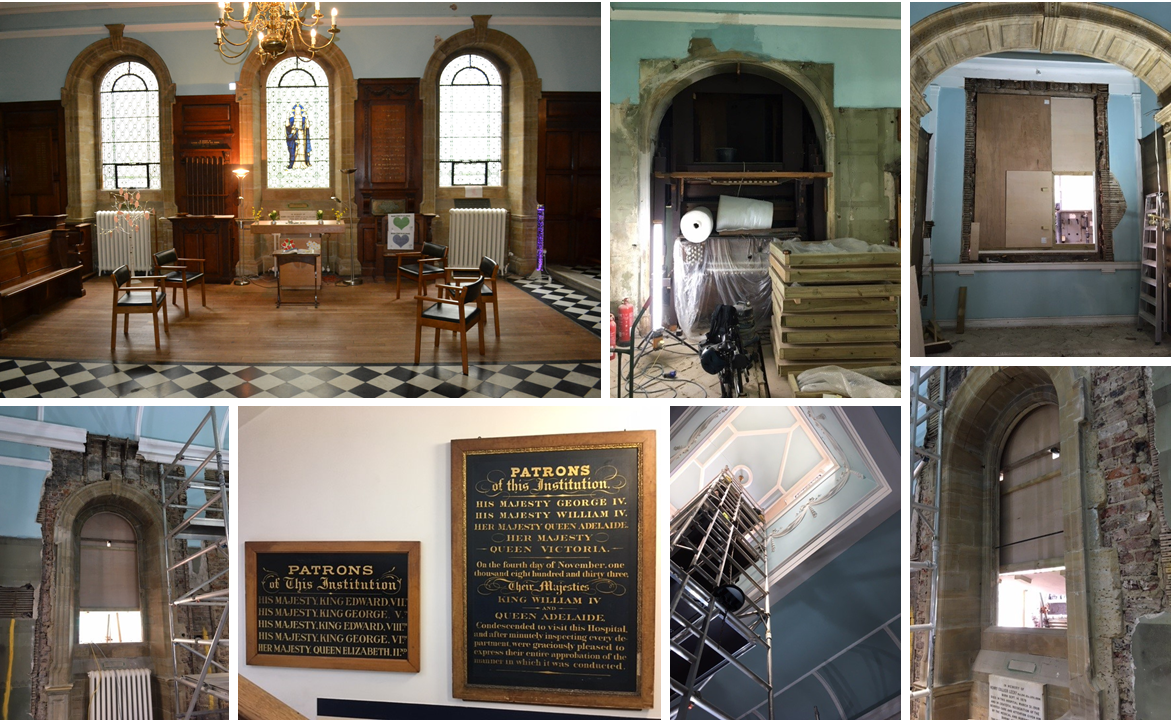 Client:

University Hospitals Sussex NHS Foundation Trust

Services Provided:

Sector:

Location:

Brighton

Period:

April 2021 – November 2021

Value:

£1.2m