Another planning success for Housing and Masterplanning as Hampton Beach scheme given go ahead
​The housing and masterplanning team have secured another planning approval for Barratt and David Wilson Homes, as permission has been granted for an exciting lakeside development in Peterborough, known as Hampton Beach, which follows swiftly on the heels of the green light for the client's Wintringham Park scheme, also in Cambridgeshire.
The newly approved scheme is a first phase development of 341 homes on a challenging brownfield site set between the East Coast Mainline just south of Peterborough city centre, and one of the Hampton Lakes, a former gravel extraction facility.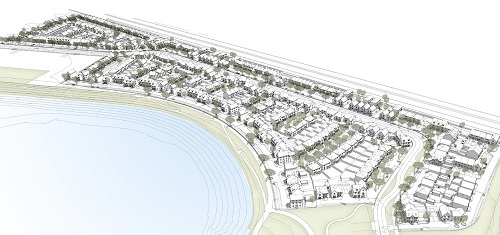 Hampton Beach is one of a series of new masterplanned communities collectively known as the Hamptons, which are already proving to be successful new neighbourhoods in the popular Cambridgeshire city of Peterborough. The new, mixed-use, sustainable urban extension comprises residential, schooling, neighbourhood centres and extensive multi-functional green and blue infrastructure.
The scheme will deliver a total 341 dwellings, comprising two, three and four bedroom houses.
A distinctive sinuous central spine road features homes alongside rainwater collecting 'swales' which help mitigate surface water flows on storm events. Furthermore a grand, gently curving crescent of townhouses overlook the lake, providing great views over the water from the upper floor living rooms, which are sure to be incredible places to live.