Proposals for the redevelopment of the Staple Tye depot site in Harlow were approved last week; signalling the green light for a distinctive scheme that will deliver much-needed social housing and enhance the character of the area.
The development will provide ten family-sized houses, ranging from two-bedroom to three-bedroom, arranged in terraces to the east and west of the site.
The scheme will be exemplary in respect of energy performance; designed to the Passivhaus standard to achieve net zero carbon in use.
Centrally located in the Staple Tye area of Harlow – one of the seven, original neighbourhoods of Gibberd's Harlow New Town masterplan – the site allows for great connectivity to immediate amenities and the rest of Harlow, with direct access to the town's comprehensive cycle network.
In addition to private gardens for each dwelling and terraces for the three-bedroom houses, the scheme will deliver a new landscaped boulevard, private community garden and natural play area.
The design features alternating brickwork colours to respond to the local context and to give definition to each house within the row of terraces. Off-centre roof ridges reflect the use of irregular or off-centre pitches on surrounding dwellings and provide an optimum angle for photovoltaics.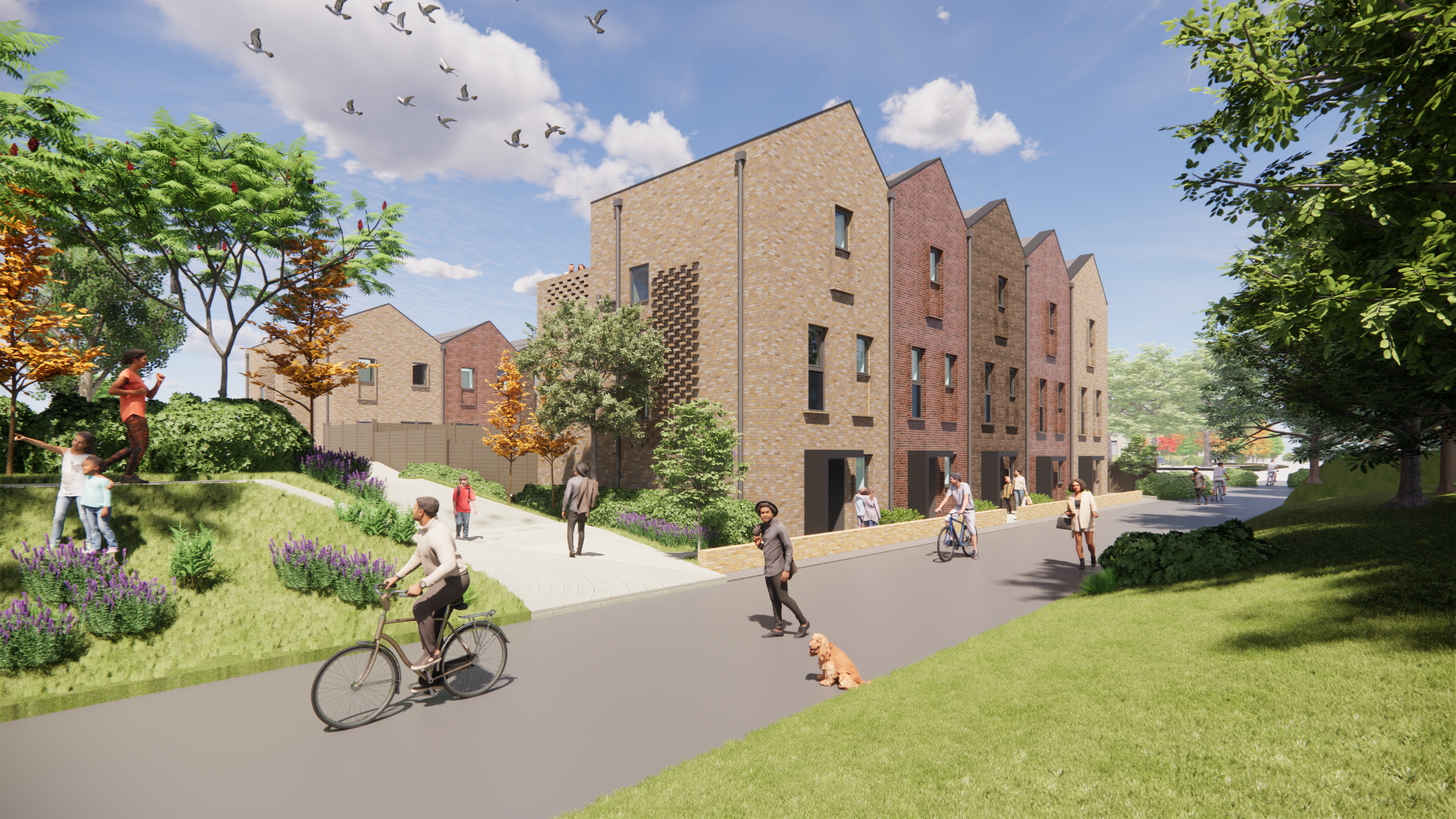 The scheme has been developed to deliver a project with low space heating demands, optimum thermal comfort and air quality levels. The energy demand has been minimised through a highly efficient building envelope including good insulation level, reduced thermal bridges and low air-tightness values. An MVHR unit supplies tempered air for heating in the winter and cooling in the summer to maintain internal comfort levels, with domestic hot water provided by an innovative DHW heat pump tank that together deliver significant energy savings. Photovoltaic panels are employed onsite to provide further carbon emission reductions.
McBains has been providing a full inter-disciplinary service to Harlow Council on this and several other schemes, comprising architecture, building services engineering, civil and structural engineering, sustainability advice, cost management and project management.
The Staple Tye depot site is the second scheme that McBains has secured planning permission for within the Staple Tye area, having achieved the go ahead for the former Lister House medical centre on Perry Road last summer, along with The Yorkes in Tye Green and Arkwrights garages. Earlier this year, McBains also secured planning approval for the Harlow transport hub and interchange.